Thursday 25th March
10:00
Sorrowful Man

Directors: Lina Fruzzetti, Ákos Östör, Aditinath Sarkar; release 2009; length 35 minutes
The film deals with the life and work of a painter, composer, and singer who is well known in rural West Bengal as a poet and mystic of legendary proportions. A charismatic figure, Dukhushyam has departed from convention in many ways, most importantly in encouraging women to take up the traditional craft of scroll painting and musical composition traditionally pursued almost exclusively by men in India. The film chronicles Dukhushyam's vision of the decline and rebirth of his art; his tolerant Sufi Muslim spirituality; his engagement with Hindus, Muslims and the modern world; his encyclopedic knowledge of changing musical and painting histories and techniques; the influence of his beliefs on his way of life; and his teachings for future generations of painters and singers in his community.
Lina Fruzzetti
Lina Fruzzetti is a professor of Anthropology at Brown University, co-director of several films with Ákos Östör (among them Seed and Earth (1994) and Fishers of Dar (2002)), and author of several books, including Women, Orphans, and Poverty.

Ákos Östör

Ákos Östör is a professor of Anthropology and Film Studies at Wesleyan University, USA. He is the author of numerous films (several with Lina Fruzzetti) and monographs (including Play of the Gods and Vessels of Time) based on research in India and Africa.
Aditi Nath Sarkar
Aditi Nath Sarkar is currently a Visiting Associate Professor at the Dhirubhai Ambani Institute of Information and Communication Technology, Gandhinagar, Gujarat. He is the author of numerous articles and museum exhibitions about the Patua tradition of West Bengal, and is a co-producer of the documentary, Future of Our Cities: Calcutta.
May I Enter
Director: Koštana Banović; release 2009; length 57 minutes
May I Enter? is an art documentary in which the Brazilian Candomblé belief is investigated and in fact experienced. This originally West-African belief reveals an attitude towards reality and other borders of acceptance and communication that is 'different' from those current in the Western society. The main characteristics are the belief in another, parallel, world of spirits and the establishment of contact with spirits through singing, dance, music and oblation. This contact takes the shape of the possession of one of the attendants by a spirit during a Candomblé ceremony.
Filmmaker and visual artist Koštana Banović interviews people involved with Candomblé, films rituals, undergoes ceremonies in which she assums the identity of her 'gods', combining elements into an inciteful documentary. Banović is herself visible in the film as a me-artist-researcher, who from a position of outsider/insider, and by comment in voice-overs, investigates and visualises the relation between belief, reality and perception.
Koštana Banović
Born in 1965 in Sarajevo, in the former Yugoslavia, Koštanais a visual artist and filmmaker. She graduated from the Art Academy of Utrecht in the Netherlands in 1983 before taking various work-art placements in Prague, Czech Republic, and working at Berry Sutdios in Montreal, Canada. In recent years she has been artist in residence in places as far apart as Finland, Senegal and Brazil.
12:00
Hanna and Violka
Director: Rossella Piccinno; release 2009; length 56 minutes
Hanna Korszla, one of Italy's 1 700 000 immigrant carers, has lived in Salento for three years, looking after Antonio – who is over 80 and suffers from Alzheimer's – day and night. Violka, her 19-year-old Polish daughter, is out of work. She takes on Hanna's role as 'Ntoni's carer, enabling her mother to return to Poland to visit family. There Hanna comes to terms with a difficult past and a problematical present, while Violka, extremely young to look after such an old man, gets to grips with a stay in Italy that is anything but a holiday.

Director's statement
My previous work, Voices of Native Italian and Migrant Women, enabled women to speak about their experiences of life in southern Italy. I wanted to take a further step in this direction, moving on to more visual reality. I chose to show the life of my maternal grandparents, Gina and 'Ntoni, and of Hanna, their live-in Polish carer. The subject is intimate and personal while part of a wider debate that is both social and anthropological.

Rossella Piccinno
Rossella Piccinno earned a degree in documentary and experimental filmmaking from the DAMS, Bologna, before specialising as a video production technician. Her directorial debut short film was Interno sei (2005), followed by the documentaries Mauritania, the Ancient Libraries in the Desert (2006), Occhi negli occhi – Recollection of a Journey (2007), Voices of Native Italian and Migrant Women (2008), the videoelegy To my Darling (2008) and this last work Hanna and Violka. From this year she'll be resident artist at Le Fresnoy studio of cinema and contemporary arts in France.
Side Effects
Director: Mashhood Ahmed Sheikh; release 2009; length 34 minutes
Lahore is the second largest city in Pakistan with a population of more than 10 million. The city is famous for exquisite food, its rich culture, as an education capital and the core of Pakistan's media and arts scene. The film takes us deep into the life of a struggling young lower middle class art student in Lahore.

Mashhood Ahmed Sheikh
Mashhood Ahmed Sheikh is an applied social researcher. His passion is to learn and try out different research methods. He has studied double bachelors, a Masters from the University of the Punjab (Pakistan), has a Certificate in Media Production from National College of Arts (Pakistan), and an MPhil Visual Culture studies from the University of Tromsö (Norway). Prior to his post graduate studies in Norway, he trained at GEO TV, Pakistan, and worked as Research Officer at the Research Associates (Pakistan) and the United Nation Population Fund/Population Council in Pakistan. His previous films include, Running Man (2005), Murder (2005), Aik Kahani (2005), Keep Talking (2006), and Harley…the Bad People? (co-directed) (2007).



14:45

Enet Yapai - An Ambonwari Girl
Director: Daniela Vávrová; release 2008; length 25 minutes
Enet Yapai was six years old when Daniela met her for the first time in 2005. Two years later she returned to Ambonwari village, East Sepik Province, Papua New Guinea. Between November 2007 and April 2008 Daniela followed Enet and her mother Alexia on their way to process sago, catch fish, or collect grass for baskets and mats. Enet 'entered' the camera in a way which both she and the filmmaker found amusing and rewarding. The film is an experiment of subtle and non-predictable interaction between Enet Yapai, the video camera, and Daniela, the filmmaker.
Daniela Vávrová
Born in 1978 in Bratislava, Slovak Republic. From 2003 – 2008 she did her Mag. Phil. studies at the department of social and cultural anthropology, Faculty of Human and Social Sciences, University of Vienna, Austria. Since 2010 she is a research scholar and PhD student in the Institute of Tropical Research, School of Arts and Social Sciences at James Cook University, Cairns, Australia. She has worked extensively as a freelance photographer and writer and worked with videocamera. Between 2005 and 2007/8 she carried out fieldwork in Ambonwari village, East Sepik Province, Papua New Guinea.
Setu Wedding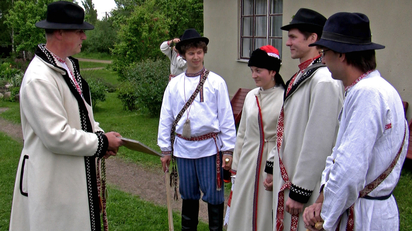 Director: Aado Lintrop, Janika Oras; release 2009; length 95 minutes
The wedding of Jane Vabarna and Kristjan Priks took place in south-east Estonia, in Setumaa – a cultural region with distinct culture and traditions – over three days from the 5th to 7th of June 2009, following the traditional structure and rituals of a Setu wedding. The film presents a brief overview of three eventful days: the wedding rituals accompanied by songs, laments and truuska (best man) dialogues, traditional music, dance and wedding jokes. When planning the wedding historical descriptions of wedding traditions and the knowledge of elderly local women was considered. Old customs were changed a little as the party was not meant to be a show for the public, but rather a feast for the couple, their close friends and relatives. This created a natural atmosphere which encouraged the participants to improvise and enjoy each other's skills, and allowed everyone to concentrate on the rituals and their meaning. Folklorists from the Estonian Folklore Archives were invited to record the wedding for the couple and also for the Archive. The film was made first and foremost for the wedding guests to enjoy and remember.
Aado Lintrop
Aado Lintrop – folklorist, filmmaker and poet – works in Tartu at the Estonian Folklore Archives of the Estonian Literature Museum. He received his first training in documentary film making during the 1970s at the Tallinfilm studio under the guidance of Lennart Meri and Rein Maran, and worked thereafter for ten years in the Estonian National Museum as a filmmaker.
Janika Oras
Janika Oras works at the Estonian Folklore Archives. Her research concentrates on the Estonia's older folksongs and the history of the archive itself. She has been a singer and performer of the old songs for over 20 years and teaches the traditional way of singing runosongs.
17:15
Esset Soul of the Gurage
Director: Haile Seifu; release 2009; length 33 minutes
Esset: Growing this plant is a tiresome venture. From birth to harvest it takes long years; since it doesn't require a large area of land it remained the major means of livelihood for the Gurage, a people living in the western part of Ethiopia. Esset plays a great role in their daily lives as a source of food, a means of social organisation and description of identity. Gender roles, social status and rank among members of the community are forged through working behaviour in the process of growing and taking care of esset.
Haile Seifu
Haile Seifu Woldeyohannes was born in Ethiopia and now lives in Norway. He has an MA degree and has taught English in high school. He has also worked as project coordinator in an organisation which gives help and support to orphaned children. Since a young age he liked to play with a camera and make short videos. He has made many wedding and church videos, and photographs. He joined the University of Tromsø to upgrade his interest in the area of film making, especially in the making of ethnographic films. He now works at the University of Tromsø at the Visual Cultural Studies department as film advisor and senior technician.
Heaven Earth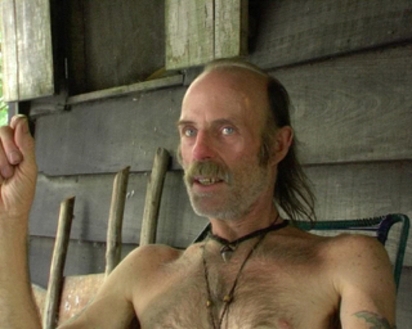 Director: Rudolf Pinto do Amaral; release 2008; 60 minutes
This film is a nexus of links, a network of stories, symbols, lived-in-worlds and different concepts around the practice and consumption of amazonian shamanism. The film focuses on shamans, working with the psychoactive substance Ayahuasca (so-called Ayahuasqueros). Heaven Earth is a hybrid arrangement of 'surreal ethnography' – a patchwork of experimental art film intermingled with indepth social survey and surrealist storytelling – set in and around the city of Iquitos. The personal approaches and backgrounds of people linked to the phenomenon of contemporary amazonian 'curanderismo' are introduced. Tourist imagination, local myths and daily life sequences embedded in the city and its surrounding jungle intertwine to form a panoramic multitude of perspectives.
Rudolf Pinto do Amaral
Rudolf Pinto do Amaral was born 1976 in Salzburg, Austria. After MA studies in social- and cultural anthropology in Vienna, he has worked as freelance writer, journalist and independent filmdirector. He collaborates with various international artists - filmmakers, musicians, poets and photographers. Heaven Earth was made in collaboration with Austrian artist and filmmaker Harald Scherz, with whom he was shooting for two months in the peruvian jungle near metropole Iquitos.
19:30

Itelmen Stories
Director: Liivo Niglas; release 2010; length: 70 minutes
Itelmen stories is a poignant tale of the social and personal significance of a language that is near the end of its existence as an orally transmitted means of communication. The film presents both the speaking of the Itelmen language, as it exists today, and the meaning of its use in the past and the present. The action in the film revolves around an ancestrally used practice of hunting sable by net. Set in rural Kamchatka in the Russian Far East, where fewer than 20 speakers of Itelmen remain, the film goes beyond its original aim to recapture a language and a hunting practice that are remembered but no longer in use. Two hunters encounter the wild environs and villages of Kamchatka as a history laden homeland and memories, nostalgia, resignation and hope echo throughout the film.

21:30
Come to My Country
Director: Shabnam Virmani; release 2008; length: 98 minutes
A journey in search of the des (country) invoked in the poetry of the 15th century mystic poet of north India Kabir, this film interweaves the stories of two people from two very different countries, Indian folk singer Prahlad Tipanya and North American scholar Linda Hess. Where is Kabir's country? The answer is elusive, as we journey through song and poem into these two lives, brought together in an unlikely friendship by the cross-cultural resonance of Kabir.
Shabnam Virmani
Shabnam Virmani is a documentary film maker and has been artist in residence at the Srishti School of Art, Design and Technology in Bangalore since 2002. Co-founder of the Drishti Media Arts and Human Rights Collective, she has directed several documentaries in close partnership with grassroots women's groups in the country, some of which have won awards. In 2002, she co-directed an award-winning community radio program with the Kutch Mahila Vikas Sangathan in Gujarat. She is the director of the Kabir Project. Started in 2003, the Kabir project brings together the experiences of a series of journeys in quest of this 15th century mystic poet in our contemporary world.