Friday 26th March
10:00 to 14:30 - Special Programme: Estonian Documentaries
10:00
Mile and Nale
Director: Madli Lääne; release: 2009; length: 18 minutes
Mio and Nada have been married for almost half a century. The Kolo dance brought them together and dancing still holds them. The documentary Mile and Nale is a story of love, happiness and tolerance in the heart of the Serbian mountains.

Madli Lääne

Madli Lääne graduated from the Baltic Film and Media School in June 2009. She has directed six documentaries and edited several films. Madli has also studied film in Germany and Cuba and has filmmaking experience in Serbia, the Faroe Islands, Hawaii and Kazakhstan. Madli has also presented a photo exhibition called Meeting with Cuba and has worked as a journalist.

Inside or Outside
Dorector: Minna Hint; release: 2009; length: 25 minutes
Britain Lyndon and Spaniard Jose are bound together by disappointment in life and successful, but stressful, careers. For that reason they decide to turn their backs on their former lives and start from scratch – turn a new page. Their main objective is to free themselves and find a satisfactory job – a job which, at first glance, doesn't seem to be a job at all… Their idea is based firstly on total honesty and sincerity, and then on having fun. Using experiences gained from their previous lives they share their philosophy in digital form on a website called www.lazybeggers.com. The film
Dentro o Fuera
(Inside or Outside) looks at applying a romantic worldview to a neo-liberal globally capitalist world. The main characters in the film experience a
flâneur
-like 'poverty' in a very unorthodox way…Being lazy, being happy, being yourself whilst making people smile is one of the best feelings that exists...
Minna Hint
Minna Hint was born in Estonia in 1981. She studied painting (1999–2003) and interdisciplinary arts at MA level (2003–2006) at the Estonian Academy of Arts. She uses documentary as a means of portraying people and alternative points of view on life.
Komi-Permyak Autumn
Directors: Indrek Jääts, Maido Selgmäe; release: 2009; length: 57 minutes
The documentary deals with ethnic identity, assimilation and nationalities policy in contemporary Russia, focusing on the Komi-Permyak case. The Komi-Permyaks were the only Finno-Ugric group in Russia, forming the majority in their ethnic autonomous unit. Yet they voted for unification with Perm Region and hence for liquidation of their political autonomy during the referendum in 2003. The documentary sheds light on the background of this decision. Using interviews and scenes from everyday life it chronicles the contemporary economic, cultural and linguistic situation in the area, one of the poorest corners of European Russia.
Indrek Jääts
Indrek Jääts (1971) is an ethnologist (PhD) educated at the University of Tartu, Estonia. He is currently working as a researcher at the Estonian National Museum and his primary research interests are ethnicity, nationalism and nationalities policy in Eastern Europe. Komi-Permyak Autumn is his first film.
12:00
The Messenger
Director: Leeni Linna; release: 2009; length: 39 minutes
Ten years ago two 13-year-old Tibetan adolescents trekked over the Himalaya, as do hundreds of other Tibetan refugees. For years the parents of one boy considered their son to have perished. Since escaping Tibet neither boy has seen his family, and messages can be sent only seldom as it is risky to make contact - return is unthinkable. Now both send a video postcard to their parents in Tibet, delivered in person by an Estonian messenger.
After many years the families can see their sons grown up, living and studying at the Tibetan school in Dharamsala, India. Scenes of meetings in this idyllic rural place, as well as in militarised Lhasa, paint a picture of the sad reality of contemporary Tibet.

Roundtable discussion
15:30 Main Programme:
A Barrel Full of Dreams
Directors: Pierre-Olivier François, Pierre Bourgeois; release: 2009; length: 93 minutes

In the middle of Russia, 3000 kilometers east of Moscow, is Khanty-Mansiysk, the capital of a region the size of France. This small town has around 60 000 inhabitants. The area contains 60% of Russia's oil, more than 7% of the world's oil resources. It is from here that Russia takes its wealth, its pride, which is then shown on the international stage by the Moscow leaders, and which allows the residents of Khanty-Mansiysk to live comfortably. In the region, Khanty-Mansiysk is called the second Moscow.
Four years ago Pierre-Olivier François and Pierre Bourgeois heard for the first time of this unknown town beyond the Urals. They went there. The place they found is as far from Russian attention as it is from international attention.
In June 2008 the new Russian President Dimitri Medvedev chose Khanty-Mansiysk as the site of his first major international summit, the European Union-Russia summit. It is the Siberia he wanted to show the West.
The film intertwines the lives of the characters with notes from the authors as in a travel book. A travel book that relates the other Russia, the wealth of which somehow also reflects all the problems of greater Russia.

Pierre-Olivier François
Pierre-Olivier's films include Finland from the East, 2003, North Korea, the border and the War, 2004, Pierre Henry at Home, 2004, The Gift of languages, 2005, Pizza Nostra, 2005, Bio-Fuels – A Brazilian Revolution, 2006, Two Countries, One History, 2007, French Fries Forever, 2007, Barrel Full of Dreams, 2009.
Pierre Bourgeois
Pierre Bourgeois has made over 20 documentaries, among them
"The Landscape Hypothesis", 200?, Chronicles of Ordinary Violence, 2004, Sandwich Without Borders, 2007, My Little Factory, 2007, and A Barrel Full of Dreams, 2009.
17:30
Nomad's Land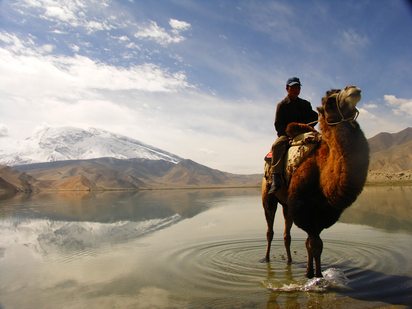 Director: Gaël Métroz; release: 2008; length 80 minutes
Gaël Métroz takes to the road alone, in the footsteps of the author Nicolas Bouvier. He discovers that the East is no longer the almost carefree land recounted by the writer in the Fifties in his book L'Usage du Monde, ('The Way of the World'): Iran in crisis, Pakistan troubled by tribal violence, the Taliban, civil war in Sri Lanka.
This world, which Bouvier had the use of, seems to have disappeared under the veil of time. Disappointed, the director decides to leave the main roads traced by Bouvier's famous Topolino and continue with the nomads. It is, paradoxically, by leaving Nicolas' road that he experiences the philosophy advocated by the travel writer, allowing Métroz to be bewitched by the East. The camera's point of view being the director's own, while discovering the East, exoticism unfolds slowly with the depth of an eye which finds its marks as the journey continues. If Nicolas Bouvier's texts are decidedly literary, the traveller's confidences are all of blood, of moments, feelings, reflections. As we discover the nomadic tribes of Asia, Gaël Métroz loses his reference points and gradually delivers us his own questions.

Gaël Métroz
Gaël Métroz was born in 1978 in the small village of Liddes in Switzerland, where he still lives today. Parallel to his studies, he taught literature in colleges. In 2004, he obtained a masters in French (language), Philosophy and Art History at the University of Lausanne and became a director and a journalist. Since 2004, he has travelled around the world in order to give travel the time required to express itself. His logbooks include: six months between Ethiopia, Sudan and Egypt in 2004, Burma in 2005, thirteen months to Nomad's Land from Switzerland to Sri Lanka, from 2005 to 2006 as well as Nepal in 2007.
19:30
Men
Director: Khristine Gillard; release: 2008; length: 70 minutes

A woman talks about a man. Then another. And another. This woman is also a prostitute. The man is sometimes a client or a brother, a neighbour, a boss, a childhood friend, a husband, a shopkeeper round the corner, a lover, a son, a passer-by. There is a wish to delicately touch this daily life behind the neon lights. Routine, tenderness, desire, waiting, everyday life, intimacy.
Khristine Gillard
Khristine has directed Destra o sinistra I, II, in 2007, and Des hommes, 'Men' in 2008.
The Solitary Life of Cranes
Director: Eva Weber; release: 2008; length: 27 minutes
Part city symphony part visual poem, The Solitary Life of Cranes explores the invisible life of a city, its patterns and hidden secrets, seen through the eyes of crane drivers working high above its streets. Within the loose structure of a day, starting with the drivers climbing up at dawn and ending with them coming down after a nightshift, the film observes the city as it awakens with a bustle of activity, through the lull of midday and the manic rush in the evening, until it calms down again deep into the night. Throughout the film, the drivers share their thoughts and reflections on London and life in general. What emerges is a lyrical meditation about how our existence is shaped through the environment we inhabit, both for the drivers high up in the sky and the people on the ground they are watching.
Eva Weber
Originally from Germany, Eva Weber is a London-based director working in both documentary and fiction. Eva began her career making several award-winning short fiction films, before joining the BBC in 1998. Whilst working as an in-house director for BBC Broadcast, she directed numerous promotions, commercials and branded films for the BBC and other television and advertising companies. Since leaving the BBC, Eva has directed the short documentary The Intimacy of Strangers which premiered at the Edinburgh International Film Festival and has screened at over 50 festivals worldwide. Most recently, Eva completed the short film Steel homes for the Scottish Documentary Institute. The film premiered at IDFA 2008 and also screened at the Sundance film festival in January 2009.
21:30
Prisoners of the Ground
Director: Stella van Voorst van Beest; release: 2009; length: 88 minutes

How to survive the dark Finnish winter? In Prisoners of the Ground, Stella van Voorst van Beest takes us on a journey through Finland to the rhythm of the Finnish tango. In karaoke bars and dance halls we meet people from all walks of life and get to know their life stories, full of nostalgia and melancholy. Through this long, cold and dark season they dream of the 'happy land' as is featured in the popular tango song "Saturnaa". And as they find solace in the tango, the snow outside slowly starts to melt, but when the sun finally breaks through, will these prisoners of the ground be able to reach the happy place they dream about?
Stella van Voorst van Beest
Stella van Voorst van Beest studied the history of the 20th century and communication studies at Erasmus University, Rotterdam (1984–1989), and documentary directing, scriptwriting and editing at the Dutch Film and Television Academy, Amsterdam (1990–1994). She has directed numerous films: Two Serious Men (1992), Hook van Holland-Moscow (1993), Melencolia I (1994), The Umbrella Factory (1999), Building Blocks (2000), It's Not Gonna Work (2000), When the Neighbour Sings (2002), Porc (2002), 4 Seasons (2004), Prisoners of the Ground (2009).