Film program 2014

... and the unclaimed
Description
In 2011, two young girls committed suicide together in Nandigram, an inland village in West Bengal. As the story unfolded, we came to know of their love affair, as well as the nonacceptance of their families and fellow villagers.To deal with this 'abnormal' relationship, one of the girls was married off in haste. Under the societal pressure, the two girls committed suicide. But their death did not end the societal nonacceptance. After their death, their bodies lay in the police morgue for several days, unclaimed by their families. One of the girls left behind a letter telling of their story of love and loathing, and asking their parents to cremate them together. The parents rejected their wish and the unclaimed bodies were disposed off by the police, unattended and uncared for. Sutanuka, Swarup, Banani and Sumita, four people from the city, eventually get to read the letter. More stories and moments emerge ... of various kinds of love and hatred.
Director info
Debalina is a filmmaker and cameraperson. She studied comparative literature and worked in television before she turned freelance. She has worked on feature length documentary films, short films, travelogues, music videos, telefilms and mixed genre. She is passionate about environmental issues, gender, sexuality and occasionally writes for newspapers and magazines
EDIT
24 buckets, 7 mice, 18 years
Year of release: 2012
Duration: 39 min
Director: Marius Iacob
Original Language: Romanian
Country of production: Romania
Shooting location: Brasov, Romania
Distributor:

Manekino Film
Iulia Hasdeu, 7, sect 1, Bucharest, Romania
0040722413005
Office@manekinofilm.ro
www.manekinofilm.ro




Description
Imre and Piroska live an isolated and poor life, mining charcoal every day. Their quiet life far away from the city is increasingly disturbed by foreign tourists who come to see the "real forest people". Between the hard work and posing in pictures with tourists, they dream about winning the lottery. Yet, every morning, weather forecasts and the lottery draw announce the beginning of another hard day.
Director info
MARIUS IACOB (born 1978) is a romanian cinematographer and director and co-founder of MANEKINO FILM - a production company based in Bucharest that has provided a frame for creative work in the cinema field for 10 years. He signed the cinematography of short and medium length films selected to many prestigious festivals like Locarno, Berlin, Rotterdam,Sarajevo, IDFA etc. He also provided the photography for Oxygen (2010, director Adina Pintilie), the Locarno Award-winning documentary The Flying Shepard (2008) and for many other award-winning shorts. "24Buckets, 7Mice, 18Years" is his first film as a director and producer.
EDIT
68 Members
Description
Rangilal Dagaura is an inhabitant of the Lalbhoji Village Development Committee of Kaialai and the head of a big family. 68 people live together, sharing a kitchen and eating together. Rangilal's family reflects various strands of managing this big family and the joys and hardships they face.The documentary aims to shed light on the various dynamics of a joint family in the Tharu community.
Director info
Ramesh Khadka is filmmaker and journalist whose films have been screened at several international film festivals. He has keen interest in social issues and anthropological film. He cooperates with Media Service Nepal, the organization which has developed more than 160 development films.

Manju Bhatta is a general manager at Media Service Nepal. The organisation has worked with various development agencies, government sector, civil society and individuals in order to produce audio-visual and print packages that reflect various development aspects of Nepal.
A Gesar Bard's Tale
Description
As a boy, Dawa was an illiterate Tibetan nomad whose life revolved around herding yaks. At the age of 13 his life changed. Through a series of visions, Dawa received the gift of telling the epic story of King Gesar of Tibet. Thousands of verses of the world's longest epic started pouring out of the nomad boy, who became a famous Gesar bard. Now, at 35, Dawa receives a salary from the Chinese Government as a guardian of national cultural heritage and is regarded as a holy man by his community. Apart from his incredible gift, he is like any other 30-something, interested in cars, music and a comfortable family life in his newly built house. Then, a devastating earthquake hits Dawa's hometown Gyegu.
Director info
Donagh Coleman was born in Philadelphia in 1975. He holds degrees in Philosophy and Psychology, as well as Music and Media Technologies. He has studied Tibetan Buddhism and has spent long periods in India and China, where many of his documentary subjects come from. Previous films include Stone Pastures (2008), winner of the Grand Prix prize at the 2009 Cervino Cinemountain Festival in Italy. Besides films, Donagh directs radio documentaries for the Finnish and Irish national broadcasters. Donagh also works as a TV and radio journalist and presenter for YLE News.
Lharitgso was born in Amdo, Qinghai Province in Tibet in 1977. She graduated from Beijing's China Women's University with a BA in Media Studies. She has worked in the art department and Tibetan documentary productions in Xizang TV, Lhasa, as well as in Beijing TV. From 2003, Lharigtso worked with the NGO Tibet Heritage Fund, where she organised projects, photographed, and produced videos, including UN-commissioned programmes. Lharigtso has held art photography exhibitions in China, India, Germany and Finland. Since 2008 Lharigtso has worked with Donagh Coleman, producing programs for the Finnish and Irish broadcasters.
Albert Cinema
Year of release: 2013
Duration: 50 min
Director: Agnieszka Zwiefka
Original Language: Polish
Country of production: Poland
Shooting location: Poland
Distributor:

Chilli Productionsul.
Stawowa 15/9, 50-018 Wroclaw, POLAND
+48 606 136 399
zwiefka@chilliproductions.com
www.chilliproductions.com



Description
This is the story of homeless filmmakers from the Brother Albert's shelter who are trying to change their lives. Step-by-step. Frame-by-frame. Shooting films in which they are the actors, scriptwriters, directors and cinematographers. It's a story about the power of a true passion. The main protagonist of the film is Leszek, the best actor in the cast, a man with a natural talent but a very complicated personality. He has one big dream – seeing his son again. They lost contact 28 years ago when Leszek was an alcoholic and they haven't spoken since. Leszek is shooting his last film for his son.
Director info
Agnieszka Zwiefka has cooperated with TVP as an author of various awarded TV programs for 12 years. In 2007 she obtained PhD in new media and works as a lecturer of television journalism and interactive films at the University of Wroclaw specializing in multimedia storytelling. In 2010 she established a production company called Chilli Productions, specializing in creative documentaries. She participated in ESoDoc (European Social Documentary) training programme in 2013. Currently she's working on a musical documentary "The Queen Of Spades".
Assessment
Year of release: 2013
Duration: 49 min
Director: Mischa Hedinger
Original Language: Swiss German, German
Country of production: Switzerland
Shooting location: Switzerland
Distributor:

ton und bild GmbH
Feldeckstrasse 2A, 2502 Biel, Switzerland
+41 32 389 18 78
kontakt@tonundbild.ch
www.tonundbild.ch



Description
Mr. Strässle drove his motorcycle into a wall. Mrs. Speck was left by her husband after being diagnosed with a brain tumor. Mr. Nimani has been suffering from depression since the war in Yugoslavia.
They are all dependent on government benefits in Switzerland. In an assessment, representatives of the social insurance companies and the social services evaluate their situation. Within an hour an integration plan is devised, in order to reintegrate the person in question into the labor market.
The film looks behind the scenes of the welfare state and reveals the discussions marked by power and helplessness between experts and the persons concerned.
Director info
Mischa Hedinger was born 1984 in Jegenstorf in the canton of Berne, Switzerland. He studied at the Lucerne University of Applied Sciences and Arts and graduated it with a bachelor's degree in video with the short film "Standby". His diploma thesis was on Frederick Wiseman and Harun Farocki. Since 2008, Hedinger has been working as a freelance filmmaker and editor. He teaches at the School of Visual Arts in Bern and Biel.
Bois d'Arcy
Description
I spent my childhood, from 6 to 10 years old, in French suburban town of Bois d'Arcy. My memories are slowly fading away. Who knows what the past holds?
Bois d'Arcy is a small municipality a few kilometres away from Paris in which Mehdi Benallal decides to face his past. The memories of ordinary racism, the insolence of children imitating adults and the suspicion towards a non poor immigrant family suffering humiliations as a response for their discretion, fill the apparently calm everyday life of this town.
Director info
Mehdi Benallal atttended cinema school Fémis, where he directed a documentary about the CNT (3 2 1 – Trois deux une) and short fictional movies. After leaving the school, he worked as mailman, sounder, enumerator and secretary of edition in Radio France and wrote about films and filmmakers in le Monde Diplomatique. His recent films look for the repercussion of a word — for instance a memory or a dream — in real spaces, filmed in the present. They try to produce emotion by establishing relationships, more or less distant, between places and a memory.
Cello Tales
Description
Four strings and a wooden box that has lived for 300 years.
The cello is the most human-like of all musical instruments in shape, size and sound.
A daughter searches for her father's stolen instrument for a decade. An artisan looks for the best way to craft the perfect piece of wood. A soloist travels the world playing. A copyist recreates the sound of the great masters.
The cello. More than just a musical instrument.
Director info
Anne Schiltz studied at the Granada Centre for Visual Anthropology in Manchester. She now works as a film director, mainly on nonfiction films. Her documentaries include "Sweet Life and all that goes with it" (2002), a portrait of a Saxon family in Transylvania, and "Gordian Troeller Revisited – Eritrea" (2007).
Her interest in music is reflected in her close collaboration with various artists and musical ensembles.
"Cello Tales" is her first feature documentary.
Conversations of a marriage
Description
Conversations of a Marriage is a documentary that chronicles the daily lives of Beatriz and Gilberto, a couple who have lived together for more than 40 years. It is a reflection on love and marriage. An intimate glimpse on two people who struggle every day to live together in harmony.
Director info
Gil González was born in 1983 in Tijuana. In 2007 he joined the Training Center of Cinematography (CCC). His first short films "The Dinner" and "The Border of Jesus" have been in several international film festivals. Currently he is finishing working on a feature film.
Cry Tears of Happiness
Description
The national anthem of Russia suddenly blasts through the speakers in the sultry pine forest on the shores of Lake Seliger. Putin and Medvedev smile gently as they watch thousands of starry-eyed young people working out and attending lectures on family values and healthy ways of life. The sun is shining. Nobody is smoking or carousing. The camp attendees are young, beautiful and healthy. People are dancing and falling in love. Life is like a utopia in Putin's Patriotic Youth Camp. The only sounds of dissent are caused by rock legend Juri Sevchuk.
Director info
Jari Kokko (born 1961 in Viitasaari, Finland) became interested in filmmaking in the 1980's in his home town of Viitasaari. The first film 'Portto pedon selässä' ('A Harlot on the Back of the Beast') was financed by a personal bank loan. He spent the latter part of the decade in the Moscow All-Union Film Institute (VGIK, 1985-1990), studying documentary directing. Jari Kokko is currently working in his own production company "Kinokokko" in Helsinki. Besides working as a director, he also works as a producer, editor, screenwriter and cinematographer.
EDIT
Demonstration Lesson
Year of release: 2012
Duration: 18 min
Director: Nataliia Mashtaler
Original Language: Ukrainian, Russian, English
Country of production: Ukraine
Shooting location: Ukraine
Distributor:

Magikafilm, Inspiration Films, SaNa Film Production
A / I 10964, Kharkov - 13, 61013, Ukraine
380577140103
info@magikafilm.com.ua
www.magikafilm.com.ua



Description
Ukraine feared and, at the same time, was looking forward to EURO 2012. The country wanted to prepare as well as possible for the European Football Championship. Will the events of summer 2012 become a true lesson for this country?
Director info
Nataliia Mashtaler graduated from Kyiv Institute of Fine Arts at 2010 and got a job as a film and television director. She has directed two documentaries: ProMotion and and High Achiever.
EDIT
Dust breeding
Description
What is the value of images as objective testimonies of a conflict?
Sarah Vanagt turns her attention to an important chapter in recent European history: the International Criminal Tribunal for the former Yugoslavia in The Hague. Dust Breeding draws its source material from the accounts of experts and witnesses, as well as from the multitude of documents (photos and videos) derived from the still ongoing trial of Radovan Karadzic. In parallel, the filmmaker carries out a series of pencil rubbings inside the tribunal's courtroom: the movement of her hand and the imprints that are revealed by the pencil on the paper show us a landscape of details that were previously imperceptible. This exploration questions the facts, the material proofs of these facts, the images representing those facts as well as the interpretation of those very images.
Director info
Sarah Vanagt (born in 1976) lives in Brussels. She makes documentaries, video installations and photos, in which she combines her interest for history with her interest for (the origins of) cinema and experimental video art.
Electric Signs
Description
Electric Signs is a poetic documentary about signs, screens, light, perception and a variety of urban landscapes. Hong Kong, Los Angeles and New York, Tokyo, Las Vegas, Shanghai, Vienna, Macau, Berlin, Seoul, Prague, and Kaohsiung – in all these cities new screen-based sign systems are putting TV-style advertising into the public domain, reshaping urban environments and re-defining areas of public space by intensifying the commercialization of the public sphere. Interviews with lighting designers, marketing professionals, urban sociologists and visual culture experts, community activists, a public space artist, and with people in the city who walk, sit, work, shop and daydream in these spaces help to capture both the beauty and excitement of these illuminated signs.
Alice Arnold take us on a fascinating journey to urban screens around the world and asks us to see this dynamic electronic landscape through new eyes. The film mixes striking footage of screens large and small with the voices of diverse stakeholders – advertisers, artists, designers, citizens, consumers, activists – and invites us to rethink how we manage public space in contemporary media cities. (Professor Scott McQuire, University of Melbourne)
Director info
Alice Arnold is a nonfiction filmmaker and an educator. Her films and photography work investigate the urban environment and visual culture. Her work has been screened at the New York Museum of Modern Art, among other festivals and venues, and she is the recipient of a Fulbright Fellowship (Filmmaking, Hong Kong) and a New York Fellowship for the Arts (photography). In addition to making media, she also teaches media studies and media production.
Gods and Kings
Year of release: 2012
Duration: 87 min
Director: Robin Blotnik
Original Language: Spanish, Maya-K'iche, English with English and Spanish subtitles
Country of production: USA
Shooting location: Guatemala
Distributor:

Documentary Educational Resources
101 MORSE ST, Watertown, MA 02472
6179260491
alijah@der.org
www.der.org



Description
At a festival in a sleepy Guatemalan mountain town, traditional dances are disrupted by an eerie spectacle in which horror movie monsters dance beside Maya gods and Cold War dictators. As old and new masqueraders compete for attention in the town center, the audience confronts a strange history that links Guatemala with the US, magic with pop culture, and religion with burlesque entertainment.
Director info
Robin Blotnick developed his storytelling skills working in motion picture development, and as a freelance editor. His first documentary, Chocolate Country (2006), about the work, lives and music of Dominican cacao farmers, received a Grand Jury Prize at the Seattle International Film Festival, was a winner in LinkTV's ViewChange competition, and is used as a teaching tool by educators and Fair Trade advocates around the world. In June 2013, his feature documentary debut, Gods and Kings won the Intangible Culture Prize at the RAI International Festival of Ethnographic Films. His latest documentary, The Hand That Feeds follows an unusual labor conflict at a Manhattan bagel café, and is supported by a grant from the Sundance Institute.
Harvesters of the Bay
Year of release: 2013
Duration: 52 min
Director: Oliver Dickinson
Original Language: French
Country of production: France, UK
Shooting location: Bourgneuf Bay, France
Distributor:

Anthony Dickinson - LVP
21 Rue Julien Douillard, 44400 Rezé, France
(+33) 680116628
lvprod@aol.com
http://lvpdocumentaries.free.fr



Description
Ten years ago, a few enthusiasts decided to revive the historic salt production of Bourgneuf Bay in the west of France. They dug out and cleared the ancient salt pans to harvest bay salt once again. Over the course of a year, we come to appreciate Bernard, Daniel and Mano, three different personalities, united by a genuine attachment to their work and a deep respect for nature.
Director info
Oliver Dickinson (born in London in 1980) is an Anglo-French documentary maker. Director of films with a social or environmental bias, each illustrating the theme of how individual or societies adapt to today's world: The Forgotten District, Caring for the Lagoon… Many international festival selections and awards already distinguish his young career. Harvesters of the Bay is his fourth documentary.
Here...I mean there
Year of release: 2013
Duration: 73 min
Director: Laura Capatana Juller
Original Language: Romanian
Country of production: Romania
Shooting location: Sighetu Marmatiei, Romania
Distributor:

Alexandru Solomon, HI FILM Productions
7, Sfantul Stefan 1st floor, 023996 Bucharest, Romania
+40212524867
alecusolomon@hotmail.com
www.hifilm.ro



Description
Ani and Sanda are two sisters from Maramuresh who grew up with their grandparents. Their parents are working in Spain, like so many other Romanians. When they left, their project seemed promising: with the money earned in Spain, they were planning to build a house in which the whole family would be happy. After more than 10 years, things haven't turned out as planned, and the big house is far from being completed. Laura Capatana Juller accompanied Ani and Sanda for three years, following with a tender and talented eye the struggles of these two girls turned into teenagers while their parents were away.
Director info
Laura Capatana Juller graduated Journalism and MA in Media Studies in Frankfurt and Sofia, working for German and Swiss publications and media agencies after that. She made social reports for the Romanian National Television TVR. Since 2006 she has been working as assistant director for documentaries.
"here… I mean there" is her first documentary feature. Laura received several awards for her media report on the topic of left behind minors. "Here... I mean there" was awarded Best Romanian Feature Film at TIFF 2013.
Home Butter
Year of release: 2013
Duration: 21 min
Director: Evgeny Aleksandrov and Elena Danilko
Original Language: Russian
Country of production: Russia
Shooting location: Russia
Distributor:

Evgeny Aleksandrov
5 Podbelsky, 4a - 4 – 52, Moscow, 107150, Russia
+07 495 9394441
eale@yandex.ru
Description
People living in cities are increasingly losing touch with the countryside and their roots. But those who have parents living in countryside villages gather at their parents' house at least once a year. It is necessary to mow the grass for the cows for the whole year and, most importantly, to collect and dry it. Haymaking provides work for everyone, both young and old. But it also gives people the possibility to feel like a family again, to hear the stories about the past.
Director info
Evgeny Aleksandrov is a leading research assistant, Doctor of Fine Arts and the head of the laboratory of the M.V.Lomonosov Moscow State University. He's also the head of the public Center of Visual Anthropology of M.V.Lomonosov Moscow State University, the producer of video works of CVA MSU (1989 - 2013) and the creator and director of the Moscow International Festival for Visual Anthropology "Mediating Camera"(2002-2012).
Elena Danilko is a doctor of History and the leading research assistant of the Institute of Ethnology and Anthropology in the Russian Academy of Science. She's also the executive director of the Moscow International Festival for Visual Anthropology "Mediating Camera" 2010, 2012. Recent publications include the monograph "Old Believers in South Ural: Essays About the History and Traditional Culture".
Igrushki
Year of release: 2012
Duration: 59 min
Director: Lina Lužytė
Original Language: Russian
Country of production: Lithuania
Shooting location: Zhlobin, Belarus
Distributor:

Dagne Vildziunaite
Pylimo st. 9-13, Vilnius LT-01118, Lithuania
+370 686 88980
dagne@justamoment.lt
http://www.justamoment.lt/en/



Description
Belarus. The town of Zhlobin. It's been 21 years since the collapse of the Soviet Union. Most of the locals survive solely by making and selling toys. Their only customers are the people passing through on trains. However, approaching a train with a toy in one's hands is illegal. The film tells the stories of ordinary people living in the town of Zhlobin. They all make toys, sell them, have chats, drink, go back to making toys, sing, fight and… make toys again.
Director info
Lina Lužytė was born in 1985 in Vilnius, Lithuania. In 2011, she graduated from the Lithuanian Academy of Music and Theatre with MA in Film Directing. She has numerous writing and directing credits in advertising and film. Lina has recently become a lecturer at different educational projects organized by the "Skalvija" Cinema Center. In 2009 she wrote and directed a short film "It Would Be Splendid, Yet", that has been selected for more than 15 international festivals and has won several awards. Currently, Lina is developing her first feature film "Do You Love Me".
Krasna Malanka
Description
Krasna Malanka is a story about people from the Romanian village of Krasna, in the territory of Ukraine, who are getting prepared for the Malanka holiday. This holiday is a landmark event for everybody in Krasna, but especially for young men, for whom it's the main initiation in their lives. Malanka is a carnival, a strange pagan show where everyone plays their own part.
Director info
Dmytro Sukholytkyy-Sobchuk was born in 1983 in Uman. He has studied film directing at Kyiv National Karpenko-Kary University of Theater, Film and Television. He has directed five shorts, including both fiction films and documentaries. He's also a participant of the Berlinale Talent Campus 2013.
Last Dreams
Year of release: 2013
Duration: 58 min
Director: Estephan Wagner
Original Language: Danish
Country of production: Denmark
Shooting location: Denmark
Distributor:

Final Cut for Real
Forbindelsesvej 7, 2100, CPH, Denmark
(+45) 35436043
maria@final-cut.dk
www.final-cut.dk



Description
"Last Dreams" confronts us with probably the most engrained taboo in our society: dying.
The film intimately follows 3 women during their last month of life, from the moment they arrive at their hospice until they are gone. Through them we explore what it really means to get to the end of life in our culture: we are with them when they deal with the most important issues remaining in their life, we are present when they find words to say 'Sorry' or 'I love you'. By closely following the women on their journey, we are deeply immersed in honest and powerful narratives of solitude, reconciliation and love.
"The film is as heartbreakingly sorrowful as it is soothing in a very special way. Like a kind of de-dramatisation of death, ample space is given to the brighter moments, which in spite of everything can be found in the midst of all the grief." (CPH:DOX)
Director info
Estephan Wagner studied theater directing at the 'International School of Image and Gesture' in Chile and film editing at the Northern German Broadcaster NDR. He then moved to France to work as editor and international correspondent for 'ARTE', while editing shorts films and documentaries. In 2007 he moved to London to study Documentary Direction (MA) at the National Film and TV School. His graduation film Waiting for Women has won awards and honors at over a dozen international festivals including IDFA, the Griersons and Palm Springs.
Love for two of us
Description
The film is a meditation on ascetic monastic life. The main characters of the film are ordinary people who live and work in the territory of the monastery helping the monks, parishioners and themselves. Each day consists of clear routines related to services, meals and obedience, day after day. This repetition and silence create a clear rhythm of life. At first glance its not very different from the life outside the gates of the monastery. People think, speak, work and pray by request. There's envy, gossip, quarrel and peacemaking. Nevertheless, people live particularly honestly in the invisible house of God. And they have some very necessary jobs too. The film is the created of facts and images of space and time, portraying a man and his life, it's simplicity and love.
Director info
Evgeniya Marchenko (born in 1989 in Leningrad) graduated in 2013 from the St.Petersburg University of Culture and Arts and the workshop of Alexander Kiselyov. She is the director, camera operator and author of documentary films To Be or To Seem, Tenement House, Following the Deep Voice and Love For Two of Us. She has participated and won awards at both Russian and intenrational film festivals.
No Man's Land
Year of release: 2013
Duration: 29 min
Director: Michael Graversen
Original Language: Danish, Dari
Country of production: Denmark, UK
Shooting location: Denmark
Distributor:

Michael Graversen
Istedgade 60, 5. sal, 1650 Kbh. V
+45 23360669
michaelgraversen@privat.dk
http://www.michaelgraversen.com/



Description
Having left their family and parents behind, teenagers from Afghanistan, Iran and Ethiopia find themselves stuck in a limbo in a Danish Asylum Centre. Their everyday life is filled with waiting and uncertainty, whilst the staff prepares for one of the toughest days on the job.
Director info
Michael Graversen graduated from the National Film and Television School in UK in 2013, finding his own voice within intimate and poetic filmmaking that deals with existential themes in complex emotional situations and environments. His film The Last Night Shift earned a nomination for the Liv&Død Prisen in Denmark and his graduation film No Man's Land was picked up for broadcast by DR2. Michael has a BA in Film, Media Studies and Psychology from Copenhagen University and before joining the NFTS he worked as a cultural journalist at the national broadcaster in Denmark.
No Place is Far Away
Description
Julian, an 8 year-old Rarámuri boy, starts to glimpse at the construction of strange tourist attractions in the Sierra Tarahumara mountain range, where his tribe has been living for centuries. For the community elders these events confirm the age-old threat of displacement which has been hanging for decades over their remote town, where, ignored by government officials, children grow up to live and the elders stay to die.
Director info
Michelle Ibaven was born in Chihuahua in 1981. She graduated in Communication Sciences, specializing in Media Production at the ITESM. She has a postgraduate degree in Documentary Script and Directing and in Directing Photography in Digital Cinema from the Madrid Film Institute in Spain. Her film No Place is Far Away has recieved several awards at international film festivals, such as the Best Documentary Made by a Woman at the International Film Festival in Morelia, the Best Documentary and Audience Award at Cinema Planeta, the Feisal Special Mention prize at the International Festival of Guadalajara, and also the José Rovirosa Special Mention Award and the Jury Mention at the Autochtone Présence Festival in Montreal.
Nobody Special
Description
A woman fights a losing battle: she doesn't want to be poor but still wants to stay among the familiar, the everyday, where she was born and raised, only to watch with a mixture of confusion and rage her surroundings become deserted, bleak places, that just rear children that disperse to faraway, ugly cities.
Told with great lyricism, Nadie Especial is about any place where the cards always seem to be stacked against the powerless. But more so, it is about the resolve shown by some to challenge a perhaps inevitable fate in hopes of restoring the pieces of a long-eroded dignity. Even if that decision furthers their isolation as they are relentlessly pushed toward a last frontier.
Director info
Juan Alejandro Ramírez was born and raised in Peru. He studied Anthropology in Lima and in the US, as a Fulbright Fellow. Later, Ramírez enrolled in film school in New York. He has since written, directed, photographed, and edited his own film narratives while living and working in parts of Africa, Asia and Latin America. His films -- a mix of fact and fiction held together by a rare reflective stance, have been shown at The Museum of Modern Art in New York (MoMA), New York's Lincoln Center, Rotterdam, Sundance, The Pompidou Center among others venues, earning him a number of international awards.
He is, to put it mildly, special. No sellout, he. His films (Porter, Diary of the End) are never longer than one-half hour and have a commercial potential of zero. His trademark style includes a lyrical mix of fiction and documentary (they look like docs, but the scenes are often re-stagings of real, or at least possible, events and actions), wide-angle and close-in shots, haunting voiceover, and a sincere empathy for the underclasses in Peru.
Howard Feinstein, indieWIRE March 19, 2010
Noise That Brings Money
Description
At the Blacksmith market in Maroua, in the Far North region of Cameroon, the hammers cling all day long. Here the local blacksmiths turn scrap iron into objects of everyday use. Car bodies become wheelbarrows, truck wheels are transformed into ploughs and smaller pieces of scrap iron end up as spoons. The film is a portrait of Abakar, a young creative blacksmith pursuing his dream to modernize his workshop and to establish a blacksmith enterprise. Following Abakar at work in his workshop, at home with his family and at meetings and exhibitions, the film presents a persistent struggle of an individual to fulfill his dreams of successful entrepreneurship by bringing seemingly unusable pieces of iron back to life.
Director info
Konrad Pilot was born in Poland in 1984. He studied social anthropology with philosophy and religion studies as minors at the LMU in Munich, Germany and subsequently Visual Cultural Studies in Tromsø, Norway. Noise That Brings Money (2013) is his first film.
On the art of war
Description
"Bellino and Luzi manage to create a complex cinematic investigation of an intense, real-life example of anarcho-syndicalist theory and practice in Italy, supremely balanced between hot agitation and cold analysis." (Ralph Eue, DOC Lepizig)


Milan, August 2009.
Four workers climb a 20 meter high gantry crane inside the hangar of the INNSE, the last active factory in Milan. They threaten to throw themselves down to stop the dismantling of the machineries and the closure of the factory they work in. The hangar is surrounded by dozens of policemen and supporters from all over Italy and Europe.
The four workers resist for 8 days at 40° in only a few square meters.
They resist because they have a clear strategy and an organized army.
They know perfectly their territory and their enemy.
It is not a simple struggle: there are clear rules, it is a workable paradigm for all forms of struggle.
Director info
Luca Bellino is a director and professor of documentary cinema at University of Rome III. He has directed documentaries about migration, with a focus on Italy and South America. He won the Prix Documè for best Italian documentary with Mate Y Moneda. As the director of The Threat ((La Minaccia) about Hugo Chávez and the Bolivarian Revolution) he received a David di Donatello nomination and several other prizes, including New York Young Filmaker's Prize and, International Reportage Award honorable mention.
Silvia Luzi is an independent journalist, author and director who produces investigative reports and documentaries for the Italian Public Broadcaster RAI 3. She won the European Social Documentary with the project The Infected. As director of "The Threat", she also received a David di Donatello nomination and the International Reportage Award honorable mention.
On the Carrera
Description
The Northern Coastline of Sardinia. Castelsardo. A town made of wind and voices. During the Holy Week it becomes the stage of a complex and fascinating ritual. The undisputed stars are the singers of the Santa Croce Congregation. A brotherhood. A group of singers. A group of men. They stop time with an unique aim: to go out on the streets and sing about the Passion of Christ. Their voices echo through the dark alleys while they try to surpass the boundaries of everyday life and their own humanity in order to be redeemed through their voices. It is a world of men, but above the men's voices there is one more voice, the ethereal, the virtual, the voice of Our Lady. The fifth, a female voice.
Director info
Francesco Costabile (born in Cosenza, Italy in 1980), earned a degree at DAMS in Bologna and directed, during those years, his first short La sua Gamba, winner at the Festival of Bellaria 2003. Between 2004 and 2006 he studied film direction at the Centro Sperimentale di Cinematografia of Rome and produced several films, including L'Armadio (special nomination at the Nastri D'Argento 2005), Dentro Roma (winner of the Nastro d'Argento 2006). In 2008 he produced the documentary L'Abito ed il Volto - incontro con Piero Tosi, a portrait of the great costume designer who dressed the majority of italian cinema.
Assunta Nugnes (born in 1978 Andria, Italy), has an acting diploma at Accademia Nazionale d'Arte Drammatica Silvio D'Amico. She has worked with several well known directors. While working as an actress, she started studying the impact of theatre linked with cultures and particularly the rites in cultures that present an ethnographical interest, most of all in traditional music applied to therapeutical rites. This interest lead her to study anthropology. She directed a documentary, Hotel Terremoto, about the forced together living of the population of l'Aquila after an earthquake, and On the Carrera.
Our Missionaries
Year of release: 2013
Duration: 9 min
Director: Martin Gruber
Original Language: Nalu
Country of production: Germany
Shooting location: Guinea
Distributor:

gruberfilm
Löfflerstrasse 11, 22765 Hamburg, Germany
+49-178-2141301
martin.gruber@ethnofilm.de
www.ethnofilm.de



Description
A small village on the coast of Guinea, West Africa. Missionaries settled here during their effort to bring Christianity to this area dominated by Islam. The villagers still speak warmly about their visitors. Nevertheless, the missionaries left after some years – seemingly in a rush, leaving behind many of their belongings. The film "Our Missionaries" tells the story of a misconceived intercultural encounter using the villagers' memories and images of the missionaries' material legacy.
Director info
Martin Gruber studied Visual Anthropology at Goldsmiths College, London and Social Anthropology at Hamburg University. He works as an ethnographic researcher and filmmaker and teaches visual anthropology. Martin recently completed a PhD on participatory ethnographic filmmaking at the Department of Anthropology and Cultural Studies, University of Bremen.
Po thi
Year of release: 2013
Duration: 34 min
Director: Eisuke Yanagisawa and Vincenzo Della Ratta
Original Language: Jarai language, Vietnamese
Country of production: Japan and Italy
Shooting location: Vietnam
Distributor:

Eisuke Yanagisawa
503, kotedoparuku sumiyoshi, 485 nakanocho, Fushimi-ku, Kyoto, 612-8315, Japan
+81-80-5439-5502
eisuke.yanagisawa@gmail.com
http://otonoha.x0.com



Description
"Pơ thi" is the biggest of the death rituals and ceremonies of the Jarai ethnic group in Vietnam. They believe that when someone dies, his or her spirit is not able to rejoin the ancestors. Only after "Pơ thi" has been celebrated, the spirit will be able to reach its final destination in the "Village of the Spirits". Shot in the Central Highlands of Vietnam, this movie summarizes the most significant moments of the "Pơ thi" ritual, from its preparation till the end of the celebration. Parades of disguised figures, animal sacrifices, gong music and dances are performed by the living to please the Spirits of the dead and to release them from all earthly bonds. Apart from allowing viewers to witness a fascinating traditional ritual, this film looks at how such traditions continue to exist in the context of modern Vietnam.
Director info
Eisuke Yanagisawa (Ph.D. in area studies, Kyoto University) is a visiting researcher at the National Museum of Ethnology in Japan. He has been studying the gong culture in the Central Highlands of Vietnam since 2006 and produced an ethnographic film Gong Culture in the Central Highlands of Vietnam and a series of experimental short films (Scapes Series). He is active in "sound hunting" and has published several field recording works at German labels.
Vincenzo Della Ratta is an PhD candidate in ethnomusicology at the University of Rome "La Sapienza", Italy. He has been studying the music and culture of the Jarai of the Central Highlands of Vietnam since 2006. His interests and research have recently expanded to include the music and culture of various Austronesian-speaking peoples of Western Southeast Asia
Ponevezh time
Description
For the first time, the world largest Ultra-Orthodox seminary opens its doors to a film crew. The Ponevezh Yeshiva, founded in 1943, was the first Yeshiva to be established in Israel. Among the constant prayer and scholarly study of 1,200 students, stand fragile confused young men. The filmmaker, former student of the Yeshiva, captures daily moments of hope, as well as sadness and loneliness, in a place where an individual can be swept away by the massive crowd.
Director info
Yehonatan Indursky was born in 1984. He lives in Jerusalem. Graduate of the Haredi Yeshiva Ponevezh in Bnei Brak and the Sam Spiegel Film and Television School in Jerusalem. His film, "Ascending and Descending" (documentary, 65 min) participated in the official competition at the Cinema South festival 2010 and The Jewish Film Festival in Jerusalem. His graduation film "Driver" won the best film, best acting and best soundtrack awards of the Sam Spiegel Film & TV School in Jerusalem at 2011. Currently he is writing the script together with Uri Alon for a new 12 episode drama series called "Shtisel" and developing his first feature film.
Poop on poverty
Year of release: 2013
Duration: 6 min
Director: Vijay S. Jodha
Original Language: Hindi
Country of production: South Africa, Denmark
Shooting location: Pushkar, India
Distributor:

Steps International
7 Glynnville Terrace Gardens 8001, Cape Town, South Africa
+27 21 4655805
info@steps.co.za
www.steps.co.za



Description
Set on the edge of the Thar Desert and in the middle of the biggest camel fair, this film looks at the lesser known side of one of the world's most visited, filmed and photographed destinations to highlight an issue that concerns over 2.5 billion people on our planet.
Director info
Vijay S. Jodha is an award-winning writer and filmmaker based in New Delhi. He has produced two critically acclaimed books and his films have been shown in over 200 countries and on over 75 broadcast channels. He studied film making at New York University and has worked with directors Ang Lee and Mira Nair. Among his honours is U.K. Environment Film Fellowship Award and Media Citizen Award.
Purgatorio
Description
This film documents, in a very personal and reflective way, the state of waiting and the struggles of the migrants trying to cross the US-Mexican border, pursuing better opportunities. Purgatorio, directed by Rodrigo Reyes, is a deeply human portrait of the chaotic reality of the border zone, bringing together a universe of small stories: border-crossers, coroners, dog-catchers and police. Leaving politics aside, we see the brutal beauty of the border and the people caught in its spell. It's a brutal, horrifying, and at times starkly beautiful documentary ode to the netherworld. While Dante's pilgrims endured the hardships of purgatory secure in the knowledge they'd eventually make it to paradise, the subjects of this film know of no such certainty.
Director info
Rodrigo Reyes (born in Mexico City in 1983), attended college in UC San Diego, as well as Madrid and Mexico City, earning a degree in International Studies. Instead of following this career path, he channeled his multicultural background into becoming a filmmaker. In 2009 he directed the documentary short The 12th of December, which followed pilgrims to the shrine of the Virgin of Guadalupe. He has also directed the film 99 Years After the Mexicane Revolution (2010) and the experimental film Memories of the Future (2011). In 2010, he was selected to participate in the Berlinale Guadalajara Talent Campus.
Rio 2016
Description
This is another kind of childhood. Two gymnasts, Teodora and Andreea, aged 13 and 11, are training to make it into the Romanian national team of gymnastics. This is hope for gold medals in a sport that made history for Romania. A story about ambition, dreams and a daily battle with oneself. It's an effort that takes several years, but it's results will be seen in a single year, a single summer. The question is: who will go to Rio?
Director info
Bianca Rotaru is a student at UNATC film school, 3rd year, studying for a bachelors degree in film directing.
Sama - Muslim Mystic Music Of India
Year of release: 2013
Duration: 52 min
Director: Shazia Khan
Original Language: Multiple Indian regional language
Country of production: India
Shooting location: Various locations across India
Distributor:

Public Service Broadcasting Trust
PO Box 3264, Nizamuddin East, New Delhi-110 013, India
+91-11-41826115
info@psbt.org
http://www.psbt.org



Description
Religious systems are neither self-contained nor static. Sama is the story of Indian Islamic Music, born out of a union of Indian and Islamic traditions more than a thousand years ago. It explores the intermingling of these traditions, in both form and content, which becomes a truly magnificent sound. The film is a journey to many breathtaking locations all over India. From Tamil Nadu to Kerala, Rajasthan, Assam, Jammu, Kashmir and West Bengal, the filmmaker traces the stories, the tunes and the faces behind the vague word of Muslim mysticism and explores how this music organically blends to absorb cultures and flavours, yet retaining its original texture. The film explores the kaleidoscope of Islamic culture in India and the contacts and conflicts of Islamic India with indigenous elements, particularly those of Hinduism.
Director info
Shazia Khan was born in the state of Kashmir, India. She has directed more than 11 documentaries and has also done work for international channels like the Dutch National Broadcast Television, NMO, OHM, France-24 and France-2. Her documentaries, Caravan and Salaam India won awards and were screened at various International film festivals. Currently she is working on two films, a documentary based on the Kashmir conflict and a fiction film on a girl child facing situations that emerged when terrorism came to Kashmir.


The Blockade
Description
The Blockade offers an unique view on the most massive, longest, and politically most significant student protest in Croatia since 1971, a protest which started in April of 2009 at the Faculty of humanities and Social Sciences in Zagreb. The blockade of classes, a struggle against the commercialization of education, lasted for 34 days. The rebellion spread to more than 20 faculties across the country and the students became an active and relevant political subject. The director followed everything: from the exhilarating preparation meetings and blocking of classes to the first signs of exhaustion, through personal situations and discussions late at night, from the initial support of most faculty members to the moment they turned their back to the movement and the attempts to reach the minister of education. The film shows that the blockade wasn't just physical, that it has a much deeper meaning.
Director info
Igor Bezinovic was born in Rijeka in 1983. He graduated in philosophy and sociology at the Faculty of Humanities and Social Sciences in Zagreb and in film and TV directing at the Academy of Dramatic Art in Zagreb. His filmography includes the short documentary films 'Above Average', 'Non-Recyclable', 'An Encounter' and 'In Fond Memory of TDZ' and the short feature film 'Naked Hours' as well as 'Blockade' – his feature length documentary.
The Chairman and the Lions
Description
As recently as forty years ago, most sections of the Maasai people were semi-nomadic and relatively independent of the nation-state. However, political, social and economic changes in East Africa have forced many herders to adopt a sedentary lifestyle. Chairman Frank Ikoyo, the Maasai leader of a Tanzanian village, battles many "lions" that threaten his community: 'bush' lawyers, land grabbers, migration and the lack of education. This film provides a glimpse into the current world of the Maasai – a world burdened with problems that traditional practices cannot overcome. Frank advocates education as the key to the village's self-determination, despite the fact that it can also produce "educated criminals." The film depicts Frank's duties as the Chairman – persuading women to send their daughters to school, interrogating spies in a lawsuit, and eliciting help of a renowned elder to train young warriors in the art of lion hunting.
Director info
Peter Biella is the director of the Visual Anthropology program at San Francisco State University and past president of the Society for Visual Anthropology. Biella's Yanomamo Interactive: The Ax Fight on CD-ROM made a significant contribution to interactive ethnography. He has produced many films in Latin America, including the award winning Textiles in Ayacucho (2007). For the last six years Biella has collaborated with the Maasai in Tanzania, directing many films about migration and HIV. These works include the Maasai Migrants Series (2012), and, with Len Kamerling, Changa Revisited (in preparation).
The Child of Silent Winter
Description
Katja is a young retiree – and a frustrated one. At 24, she is living in a circle of solitude, spending her days walking her dog and looking out of the window.
Her loneliness stems from being the victim of school bullying for years.
She is anxious and afraid. Is this her life? If only she could find a friend.
Director info
Iiris Härmä was born in Finland in 1970. She has over 10 years of experience as a producer, production coordinator, director and writer in documentary film productions. Since 1999 she has worked in her own production company, Guerilla Films.
The Coach Machine
Year of release: 2012
Duration: 52 min
Director: François-Xavier Drouet
Original Language: French
Country of production: France
Shooting location: France
Distributor:

Gregory Betend
Le Village, 07170, Lussas, France
33475943467
contact@andanafilms.com



Description
Luc, a defeated candidate in the musical reality TV show "The Voice", is certain of one thing: within three years he'll be a millionaire. To achieve his objective, he participates in personal development seminars where success coaches teach him the secrets of success. At the same time, he becomes involved in a mysterious internet business that promises him a fortune without having to leave his home. Will he be able to make it reality?
Director info
François-Xavier Drouet, age 32, graduated in political sciences and anthropology. He worked as a reporter for the radio and written press before following with a Master's degree in creative documentary filmmaking in Lussas organised by Ardèche Images. He travelled the world with his first film, The Initiation, and is also the co-writer of Teboho Edkins' film Gangster project.
The Immortals at the southern point of Europe
Year of release: 2013
Duration: 75 min
Director: Yiorgos Moustakis, Nikos Labot
Original Language: Russian, English, Greek
Country of production: Norway, Greece
Shooting location: Greece
Distributor:

Yiorgos Moustakis
Bygdoy Alle 20, 0262, Oslo, Norway
004741689058
contact@geometryfilms.com
www.yiorgosmoustakis.com



Description
In the aftermath of the Chernobyl disaster and the collapse of the Soviet Union, a team of Russian scientists seeks "immortality" on a tiny Greek island and in the philosophy of Pythagoras. Lead by a nuclear physicist and survivor of the Chernobyl disaster named Andrei, they create a commune on the island and establish an esoteric school. The film presents the development of their ideas and their adventurous relation with the local community, as it is now Greece's turn to face its own big crisis. The film tells of a quest for certainties in an era of total uncertainty.
Director info
Yiorgos Moustakis has worked in various areas from pre-production to post-production in the field of TV and Film, in Greece, the UK and the Czech Republic. He has produced/directed/edited three short films and a feature documentary. His last short film, Mari, won several awards. His further training includes participation in the 6th Berlinale Talent Campus (2008) and the screenwriting workshop NISI MASA European Short Pitch (2010).
Nikos Labôt he has worked in feature and short films (in Greece and in France), in TV series and TV shows. He has shot music video clips and three short films. He has also co-directed the theatrical play REPULSION_6 (group Erasers). At present he is in the preproduction of his first feature fiction film "CLEANER".
The Road: A Story of Life and Death
Description
This film offers a fascinating and intimate insight into the lives of people who have come to London from afar in order to seek a better life and have struggled to make the city their home. Filmmaker Marc Isaacs weaves together numerous poignant stories of loss and the search for belonging into a tapestry of human experience. Keelta, a young Irish woman, leaves home to build a new life for herself on the road whilst Billy, an old Irish labourer, is struggling to find meaning to his life. Peggy, a 95 year old Jewish refugee from Vienna, and Brigitte, a German born former air hostess have both suffered bad husbands, while Iqbal, an unassuming Indian hotel concierge, awaits the arrival of his wife from Kashmir. A film that forces you to recognise the struggles and preoccupations of its characters as our own. A highly affecting study of immigration.
Director info
Marc Isaacs has made more than 10 creative documentaries for the BBC and Channel 4 in the UK. His films have won Grierson, Royal Television Society and BAFTA awards, as well as numerous international film festival prizes. In 2006 he had a retrospective at the prestigious Lussas Documentary film festival in France and his work has been included in numerous documentary books and academic studies. In 2008 Marc received an honorary doctorate from the University of East London for his documentary work. Marc is currently a part time lecturer in Documentary Practice at Royal Holloway University.
The Silent Chaos
Year of release: 2012
Duration: 45 min
Director: Antonio Spanò
Original Language: Sign language, Kinande, Swahili, French
Country of production: Democratic Republic of Kongo, Italy
Shooting location: North Kivu, Democratic Republic of Congo
Distributor:

Journeyman Pictures
4-6 High Street, Thames Ditton, Surrey, KT7 0RY, United Kingdom
+ 44 208 398 4616
info@journeyman.tv
http://www.journeyman.tv/63130/about-us/how-to-find-us.html



Description
North Kivu, the Democratic Republic Of Congo. After a bloody civil war that lasted for years, Congolese society has lost its identity. However, archaic superstitions and magical beliefs are still elements which bring the population together.
These forces guide the defense of the territory controlled by the Mai-Mai rebels, but they also make people consider those who are different as a threat, like in the case of the deaf in Butembo. This is the story of those who have no voice and no hope, but who keep struggling for their own dignity and are not willing to resign to unhappiness.
Director info
Antonio Spanò (Milan, 1985) started with short movies. Later on, he co- directed his first documentary "Our sky, our land", awarded with "Unicef Prize for the Peace 2010" (Italian Prize). "The Silent Chaos" is his second documentary.
He lives and works in Italy.
The Swan Song
Description
Francis has been a shepherd in Soulas for more than thirty years.
But this year he is too tired to go on and must therefore retire.
Marion takes over his job in the mountain.
She is supposed to become the new shepherdess.
But after one month at the summer pasture, she falls and dies.
Francis has to go up again to finish the season.
Director info
Aurélie Jolibert (born in 1984) has worked as a technician in severals films before shooting her first short film in 2008. The Swan Song is her first documentary.
To Wesna & Prala
Description
No word will ever describe the nightmare endured by the Cambodians because of the Khmers Rouges. It is about time for Sun Peau, my mother, to understand what really happened.
And to go back to the places of her youth...
She tells us of a life full of emotions, of sadness and tenderness, without any hatred or avenging spirit.
This is the very personal story of a remarkable woman. Through her story we discover an injured and traumatized country, one that stayed too long in silence and fear.
She confronts her past and finds her house, describes her pain and shares her last prayer with us.
It is the story of a woman shaped by two cultures and two stories, looking for unity and freedom.
Director info
Graduate from the Institute des Arts de Diffusion (IAD), session 2004, editor. Cédric Larcin works as a cameraman and editor in television productions (RTBF, Canal +, ...) and film.
To Wesna & prala is his first film.
Together as one
Year of release: 2013
Duration: 39 min
Director: Lamtur Tanlaka Kilian
Original Language: Lamnso
Country of production: Norway
Shooting location: Nso in Cameroon
Distributor:

Visual Cultural Studies, University of Tromsø, Norway.
C/O Trond Waage, Visual Cultural Studies Department of Archaeology and Social Anthropology
+47 91599820
trond.waage@uit.no



Description
This film shows what one thing, in this case a nut and a natural resource, can mean to people (Christians, Muslims and followers of traditional religious beliefs) in the Nso society (Cameroon). The kola nut is an item around which the feeling, experience, sense and lived "reality" of belonging, togetherness, unity, oneness, friendship and peace is expressed. The kola nut thus plays an important role in bringing very diverse people together, irrespective of their religion, village, quarter or thoughts. In this sense, the kola nut brings about a feeling of togetherness, fellowship and belonging to a group.
Director info
Kilian Lamtur Tanlaka from Cameroon (Central Africa) has a D.E.A (Diplôme D'Etudes Approfondies)in History from the University of Ngoundere in Cameroon and a Master in Visual Cultural Studies from the University of Tromsø, Norway.
Two sides of one horse
Description
In order to understand what's going on in Russia these days, simply going out on the street and looking around you or reading the news reports is not enough. If you want to get to the essence, the best way is to change the point of view radically and look at things through the eyes of, say… a horse that serves in an operative battalion in the center of Moscow.
Director info
Tatyana Soboleva was born in Moscow. She learned drama and psychology and was a student in the Literature University. In 1999 she entered the All-Russia State Institute of Cinematography (VGIK) where she pursued a degree in Film Directing. Shortly after graduation from VGIK in 2004, she directed a video documentary 'Francois: Residents Permit' which was screened at more than 20 international film festivals and won the award for the best documentary at the IFF in Tehran. Tatyana Soboleva is a member of Directors Guild, Russia.
Year of release: 2014
Duration: 54 min
Director: David MacDougall
Original Language: Mewari
Country of production: Australia
Shooting location: Delwara, Rajasthan, India
Distributor:

Royal Anthropological Institute
50 Fitzroy Street, London W1T 5BT, United Kingdom
+44 20 7387 0455
film@therai.org.uk
http://www.therai.org.uk/fs/film-sales/



Description
From the 16th century the Indian village of Delwara in southern Rajasthan was ruled as a principality of the kingdom of Mewar. Its palace, which overlooks the village, is now a luxury hotel—a world remote from the daily life of the villagers. Following on from his film SchoolScapes, which was inspired by the early cinema of Lumière, David MacDougall here employs a series of precisely observed scenes to explore Delwara's local primary school as a part of contemporary village life—a life that continues "under the palace wall".
Director info
David MacDougall is an ethnographic filmmaker and writer on cinema. He has filmed in East Africa (the Jie films and "Turkana Conversations" trilogy), Australia, and India (Photo Wallahs [1991], Doon School Chronicles [2000], SchoolScapes [2007], etc.) In 2005 he filmed at a shelter for homeless children in New Delhi, producing Gandhi's Children (2008). MacDougall writes regularly on cinema and is the author of Transcultural Cinema and The Corporeal Image: Film, Ethnography, and the Senses. He is presently Adjunct Professor at the Australian National University, where he is conducting a video workshops project, "Childhood and Modernity: Indian Children's Perspectives".


Voices from the Tundra - The Last of the Yukagirs
Description
In the north east of Siberia live the Tundra Yukagirs, a nomadic people of reindeer herders. Only 63 of them still speak the Yukagir language. Dutch linguist Cecilia Odé travels to the Yukagirs in order to capture their language and preserve it for posterity. The heart-warming friendship which develops between Cecilia and the Yukagirs allows the filmmakers to enter the Yukagir community in an unforced manner and makes it possible to speak frankly with them about their disappearing language, their traditions and their efforts to keep their culture alive.
Director info
Edwin Trommelen is a documentary filmmaker. he has directed several documentaries, such as Back to the Camp (2003), The Last Outcry (2003), Caught in Mordovia (2004), Behind the Black Mountains 2006), Turkmenistan, My Homeland (2012).
We were running through the grass
Year of release: 2013
Duration: 34 min
Director: Lucile Marie Remy
Original Language: French
Country of production: Belgium
Shooting location: Belgium
Distributor:

Médiadiffusion
rue des Wallons 75-77, 1348 Louvain-la-Neuve, BELGIUM
+32 (0) 485 640 787
diffusion@iad-arts.be



Description
We are looking for a background to switch
To somewhere else...
When we were twenty,
When we were wandering in a infinite space;
When we were twenty,
Running on the grass...
Director info
Lucile Remy was born in Bruxelles in November 1989. Passionate about literature and cinema, she decided to study to be director at the IAD, Insitut des Arts et Diffusion (Arts and Diffusion Insitute), in Louvain-La-Neuve, Belgium. "We were running through the grass" is her graduate film. She is currently involved with a few documentary and fiction projects.
When I was a boy, I was a girl
Description
Goca is a transvestite in Belgrade, the capital city of a country where organizing or participating in the gay pride parade is forbidden. She is raising a daughter who is actually her niece. Although her eighteen year old boyfriend steals the money she has earned as a sex worker, risking her life, Goca still loves him and manages to retain her sunny, open-minded nature. On her thirty-ninth birthday she decides to celebrate her coming-out on stage in front of a live audience. And so she tells them the story of her life: "When I was a boy, I was a girl."
Director info
Ivana Todorovic was born in Belgrade and developed in an early age a fascination with the power of human instincts and modes of survival when dealing with trauma. Her documentaries deal with social change. A Harlem mother is used in media campaigns against youth gun violence in New York; her films Rapresent and Everyday life of Roma Children from Block 71 are often used as a part of the educational curriculum in schools in Serbia. Her films have been shown in a number of well known film festivals. When I was a boy, I was a girl premiered at Berlinale 2013.
Ivana studied filmmaking at the ATELIERS VARAN Documentary Filmmaking Workshop and New School in New York. She also has a BA in Social Anthropology from the University of Belgrade.
3,2,1 – Beautiful jump
Description
Thomas Talts spends most of his free time outdoors. In Estonia he is virtually the only one engaged in BASE jumping. BASE jumpers are considered insane because jumping takes place from bridges, tall buildings, tv-towers and also cliffs. They have no backup parachute. Therefore, BASE jumpers from different countries form a kind of community where one cares for each other. Also group jumps are performed. Why is it necessary to put one's live at risk, and what to whom if anything at all one has to prove?
Bloodsport
Year of release: 2013
Duration: 31 min
Director: Shivani Gupta, Gursimranjeet Khamba, Francis A. Lohrii
Original Language: English
Country of production: India
Shooting location: Mumbai, India
Distributor:

School of Media and Cultural Studies, Tata Institute of Social Sciences,
V.N. Purav Marg, Deonar
Mumbai400088
India.

+91-22-255256775
films.smcs@gmail.com
http://smcs.tiss.edu/

Description
Bloodsport tracks the lives of three Mixed Martial Arts fighters from the city of Mumbai. The Muay champion Irfan Khan, karateka Ritika Singh and wrestler Siddesh Shirgaonkar show us what it takes to become a fighter. The film depicts their fears and motivations and the pressure they face from a society struggling to grapple with the concept of Mixed Martial Arts. Through these fighters, the film also looks at why the sport suddenly gained traction in India, and how Indian audiences respond to women in the sport and its future in India.
Breakin' Mumbai
Year of release: 2012
Duration: 33 min
Director: Sumit Singh, Aakriti Kohli, Sandeep Kr. Singh, Gin Khan Siam and Shweta Ghosh
Original Language: Hindi
Country of production: India
Shooting location: Mumbai, India
Distributor:

School of Media and Cultural Studies
Tata Institute of Social Sciences, Opp. Deonar Bus Depot, Mumbai 400088
+91 22 25525000
contact@monteiro-jayasankar.com
http://smcs.tiss.edu/

Description
The film looks at how Breaking becomes a form of expression for subaltern youth cultures in the city of Mumbai. Breaking, a dance form that started back in the 70s in the Bronx, New York, finds its way to the streets of Mumbai and is appropriated by the youth of the city and molded to fit their everyday lives.
The film also foregrounds the questions of who does the city belong to and who can stake a claim on it's spaces. While exploring the relationship between the characters and the city, the film dwells on the question of how space is contested and what are the venuses for leisure in Mumbai.
Through the personal lives of 21-year-old Gani and 18-year-old Aman and their friends, the film tries to understand the dynamics of breaking: what breaking means to these youths and how it becomes a mode for their self-expression.
No Finish Line
Year of release: 2009
Duration: 28 min
Director: Kullar Viimne
Original Language: Estonian
Country of production: Estonia
Shooting location: Estonia
Distributor:

Rühm Pluss Null

film@plusnull.ee

Description
The finish line is merely a temporary road sign without any significant meaning. That is how it is with life as well: the fact that it has an end does not necessarily mean that existence has meaning. The finish line is simply a temporary goal that one sets for oneself, or a metaphor for a quickly passing existence. Father Peeter, mother Pille and daughter Heleen Vennikas travel to Finland to participate in the annual ultra-marathon, one which lasts for 24 hours straight. Hundreds of kilometres are covered in one astronomical day in this endurance race full of suffering held at an indoor stadium in Espoo.
Velosophy
Year of release: 2013
Duration: 29 min
Director: Jaan Tootsen
Original Language: Estonian
Country of production: Estonia
Shooting location: Estonia
Distributor:

Ööülikool

jaan.tootsen@err.ee

Description
The self-awareness of cyclists has increased worldwide, marking the dawn of Homo pedalicus - a human being who witnesses the world from the saddle of a bicycle. The best specimens of this species have developed a peculiar altered state of consciousness, using their bicycle as an instrument of perception, as a mind expander.
Women and water
Year of release: 2013
Duration: 65 min
Director: Nocem Collado
Original Language: Hindi, Telugu, Tamil, Marathi, Marwari and English
Country of production: Spain
Shooting location: India
Distributor:

Nocem Collado
C/ San Isidoro 18, 2ºB Sevilla, Spain
+34 639949229
nocemcollado@gmail.com
http://lamujeryelagua.com/en/



Description
In many parts of the world, it falls to women to collect water. Thus they become responsible for their family's health after abandoning school at a very early age. They are also the first to suffer when faced with scarcity. Drawing a parallel between the cycles of life and the cycles of water, the documentary analyzes the relationship of women and water and raises a question which will surely be examined more frequently in the future: who has the right to water when it is scarce?
Director info
Nocem Collado is a documentary director, producer, photographer and magazine contributor.
Her first documentary "Cartography of loneliness" (2011) was shortlisted in a number of international film festivals and was acknowledged as one of the best European documentaries in Hamburg, Cambridge and Bilbao. "Women and water" is her second documentary.
Kelly
Year of release: 2013
Duration: 28 min
Director: Andzei Matsukevits
Original Language: Estonian
Country of production: Estonia
Shooting location: Estonia
Distributor:

Allfilm

allfilm@allfilm.ee

Description
The 11-year-old alpine skier Kelly is in a league of her own. Her father got her on her skis when she was only two years old. By now, Kelly is world-famous. She has participated in skiing films, great sponsors have taken her under their wing, and she is able to perform stunts that no woman has been able to do before. During the snowboarding season, Kelly travels between America, Asia and Europe. All of this is far more than any alpine skier has accomplished in her age. Kelly and her father are fanatical alpine skiers, who aim towards a common goal: for her to become the absolute best in the sport.
Brotherhood
Year of release: 1985
Duration: 20 min
Director: Andres Sööt
Original Language: Estonian
Country of production: Estonia
Description
A film on the training of the decathlete Valter Kütti, as well as competitions and the current state of decathlon, according to Fred Kudu, an acclaimed coach.

Team
Year of release: 2006
Duration: 58 min
Director: Peep Puks, Hans Roosipuu
Original Language: Estonian
Country of production: Estonia
Description
A flim about the success story of Estonian cross country skiers. Small Estonia is known as a great ski nation. Andrus Veerpalu wins the gold medal in 15 km cross-country skiing at the 2006 Torino winter games. What lies behind his success? All victories and losses of 2005 are just stepping stones on the way to that one race in Torino. The risk is great. But the desire to repeat the peak of one's success is even greater. Coach Mati Alaveer has put together a team with profound knowledge of skiing which looks after the well-being of the Estonian men's skiing team. Estonia wins three gold medals in cross-country skiing at the Torino Winter Olympics. The skiers become national heroes.
F2nn
Year of release: 2006
Director: Steiv Silm
Original Language: Estonian
Country of production: Estonia
Distributor:

The documentary focuses on the 12 warriors of the modern age: the army of fans. What are the beliefs, clothes, weapons and worldview of an Estonian football fan? The film focuses on who these 12 warriors actually are, by drawing parallels to warfare and by stating a hypothesis that football is the modern, bloodless war. Different parties are present in the film, both players and fans, including, among others, Mart Poom, Andres Oper, Jaanis "The Bow" Valk, Tarmo "The Sweeper" Kruusimäe, Kadri Pommer and Jaanus Rumma.



Heroes
Year of release: 1980
Duration: 15 min
Director: Peep Puks
Original Language: Estonian
Country of production: Estonia
Description
A film about the Olympic champions Aavo Pikkuus, Ivar Stukolkin, Jaak Udumäe and Viljar Loor.

Work is going on!
Year of release: 2012
Duration: 31 min
Director: Taavi Arus
Original Language: Estonian
Country of production: Estonia
Description
Andres Sõber is a man who has been present in the world of basketball already since the 70s and whose enticing sayings, emotional way of speaking and clear vision of what is happening on (and off) the basketball court has made him one of the most colourful figures in Estonian sport. No matter what people think he is, ranging from a mouthy fool to the saviour of Estonian basketball, no-one is left unaffected. The film follows the protagonist as he supervises the basketball players during the course of one season, trying to capture the emotions that preceed and succeed a match, and shows what Sõber really is behind the overly confident, even provocatively boastful facade that he shows to the public.
Sport Century
Year of release: 1976
Duration: 20 min
Director: Andres Sööt
Original Language: Estonian
Country of production: Estonia
Description
A film about the problems related to the physical activities of contemporary people, and the relationship of sport and the younger generation.

Mandinga for Export: The Globalization of Capoeira
Description
Capoeira is afro-Brazilian art form, a mix of dancing and fighting that in the last thirty years has experienced an intensive process of globalization. Mandinga is a sort of spiritual concept present in afro-brazilian religions that relates to magic and the secret sources that its practitioners are able to use for personal protection and to achieve certain personal goals. The concept is present in capoeira and it is used to portrait the practitioners that are wise, tricky, artful, smart and malicious. Both inside the Roda, the main small circle where capoeira is practiced, and outside, in the larger circle conceived as the world. Madinga has turned from a spiritual concept into a social tool that capoeira practitioners have been using and exporting in order to enlarge the market and consumption of the art.
Director info
Ricardo Nascimento is a graduate in Geography at University of Porto in Portugal. Ricardo Nascimento currently works in the research center CRIA Centro em rede de investigação em Antropologia at Universidade Nova de Lisboa. His dissertation looks at the process of transnationalization of the Capoeira practice in Europe, based on a comparative study between groups of practitioners in Porto and Kraków. He is also a capoeira teacher leading his own group in Portugal.

A Bride of the Seventh Heaven
Year of release: 2003
Duration: 78 min
Director: Markku Lehmuskallio, Anastasia Lapsui
Description
This film is about a lonely and old Nenets woman called Numd Syarda who recounts her life to a blind girl called Ilne. The word Num means heaven and is also the name of the highest god of the Nenets. Syarda means tied to or imprisoned. So Numd Syarda means tied to Num. The name Ilne means a giver of life.

In the Nenets culture, in the past and the present, a girl child can be offered to the god Num before or after her birth. She may be pledged to the god for three, four or five times and for seven years, or even for her whole lifetime. It all begins at her birth. Afer this time has passed the woman may take an earthly husband as her lifetime partner.
The script is based on Anastasia Lapsuis' own experience. As a young girl, she was blind for some years and often visited an old woman living alone in the neighbouring tepee. They were friends and the old woman told Anastasia Lapsui about her life betrothed to a god. The film is her story.
A Bride of the Seventh Heaven was filmed with the assistance of the local Nenets in the tundra of the Yamal Peninsula. They all are ordinary people and hence amateurs in acting.
The voice of the tundra (Pudana making of)
Year of release: 2013
Duration: 52 min
Director: Jean Ehret
Description
Anastasia Lapsui is the first film-maker from the Far North of Russia to have filmed her people in her mother tongue - Nenets. Born in the Yamal tundra in 1943, she bears witness to the end of an era, filming a world in the process of mutation. With the same desire to pass on knowledge I filmed Anastasia Lapsui in her daily and professional life. As a "making of" showing her latest film-shoot, this film is a portrait of a film-maker and her people, the Nenets of the tundra.
Pudana
Year of release: 2009
Duration: 84 min
Director: Markku Lehmuskallio, Anastasia Lapsui
Description
Pudana is a story of change, upbringing and the deprivation of identity. The film takes place in the Yamal Peninsula during the Soviet time and is based on a true story from director Anastasia Lapsui's childhood surroundings.
A little Nenets girl, Neko, is taken against her will from her home teepee to a boarding school in a remote Russian village. Forced to adapt to a foreign culture and new customs, Neko rebels against the russification and gets bullied by her schoolmates and picked on by her teachers. After several conflicts, Neko decides to flee, together with her Nenets schoolmate, hoping to get back to her family and old habits. However, the children's flight in the icy forests and tundra is short-lived, and the return to the boarding school and new Russian life inevitable.
The story is told as a memory of old Neko, now named Nadja. Now, after a long and full life, she recalls the moment that ended her childhood and when her life as a part of the other society begun. But something has changed for good: Neko, the last of her family, has grown away from her original roots and lost her skill to sustain the ancient traditions of her family.
Anna
Year of release: 1997
Duration: 55 min
Director: Markku Lehmuskallio, Anastasia Lapsui
Description
A Russian documentary made in 1954 told the story of the native inhabitants of the Taymyr peninsula. The film group visited a boarding school in the village of Novynski and photographed the Nganasan and Dolgan children studying there. One of the children was Anna Alexeyevna. In 1996, a Finnish film group started looking for her, found her and filmed her. What has her life been like?

7 Songs From the Tundra
Year of release: 2000
Duration: 85 min (one song 20 min)
Director: Markku Lehmuskallio, Anastasia Lapsui
Description
Anastasia Lapsui has incorporated a number of local legends and personal experiences in her stories – stories that describe the life of the Nenets. The Nenets have no theatres, no professional actors - just ordinary people, nomads, hunters and fishermen. But all have shared the desire to make these stories come alive: here, a Nenets is played by a Nenets, the collective farm boss by the collective farm boss, the teacher by a teacher. In other words, they all appear as themselves. Because they felt that the film told the story of their families, "the history of who I am". That is how Seven Songs from the Tundra was born. It is the first feature film in the Nenets language. The first and seventh song are of documentary nature and the rest have been dramatised. The screenplay was written by a native Nenets and it was made into a film through the joint effort of the Nenets people.
Dragan Wende
Year of release: 2013
Duration: 85 min
Director: Dragan von Petrovic and Lena Müller
Original Language: Serbian, English, German
Country of production: Germany
Shooting location: Berlin, Germany and Mladenovac, Serbia
Distributor:

Lena Müller
Skalitzerstr. 69, 10997 Berlin, Germany
004917668088825
lenamuller@gmail.com
draganwende.com



Description
The Yugoslav immigrant Dragan Wende used to be the street king of West-Berlin's 1970s hedonistic disco scene. Along with his friends, he roamed the nightclubs on both sides of the Wall – his pockets full of Western money. But when the Wall fell, everything changed. Dragan now leads a rather humble existence, working as a "street manager" for a bordello and various nightclubs, being actually rather lonely and living on welfare. He has not set foot in East Berlin for the past 20 years and has no intention to do so. Dragan wants the Wall and his past back.
A tragicomical family tale in a still divided city and a crazy piece of world history told from the kitchen of an eccentric and washed-up bordello doorman.
Director info
Lena Müller grew up in Berlin and in Paris, studied Philosophy, Political Science and Economics at Oxford University, worked for a human rights think-tank in Belgrade devising large-scale civil society projects.She worked for documentary companies and gained her Master in Film Studies at King's College, founded von.müller.film, was part of ExOriente & the Nipkow Programm, and works for BBC Worldwide.
Dragan von Petrovic grew up in Leskovac, South Serbia. He studied philosophy at the University of Belgrade and worked as a sports journalist for the TV station Studio B. He finished the AFC Film Directing School before enrolling in the Film Editing Department at the Faculty of Dramatic Arts in Belgrade. He attended various film workshops including: Ex Oriente, Berlinale Talent Campus, Nipkow Programm, Zagrebdox Pro. He works as a freelance film editor on creative documentaries and fiction feature films, as well as an editing doctor on documentary films
The convict patient
Description
In the summer of 1968, Mexico experienced the birth of a new student movement. On Oct. 2, before the opening of the Summer Olympics in Mexico City, police and military troops shot into a crowd of unarmed students who were protesting against one of Mexico's most oppressive regimes in history. As tanks bulldozed over Tlatelolco Plaza, thousands of demonstrators fled in panic. The Massacre led to the death of hundreds, yet no one in the government was held accountable.
One man, Carlos Castañeda de la Fuente, sought vengeance by making an attempt on the president's life. Arrested and convicted, he 'disappeared' from society entirely, only to resurface 40 years later. The survivor of the system's disproportionate punishment wanders in the streets of Mexico City, homeless and aimless, asking for alms.
This is a film about how far a government will go to cover up the voices of dissension.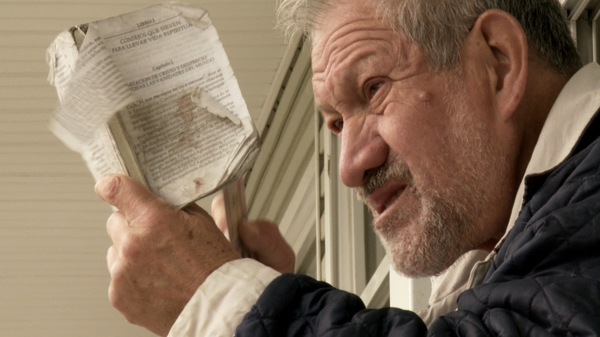 Director info
Alejandro Solar Luna is a documentary and fiction filmmaker.
Alejandro received a B.A in Communications from the National Autonomous University of Mexico (UNAM) in 1994 and in Film Direction from the University Centre for Film Studies (CUEC) in 2002. He has directed 6 short films, including "las moscas" (The Flies), which earned him the Best Short Film Award (tying with Ondas Hertzianas by Ernesto Contreras) in the V International Film School Festival as well as a nomination for Best Film by the Mexican Motion Picture Academy in 1999. He also directed the short documentary "la regla 18" (Rule 18), selected for the Berlinale Film Competition Shoot Goals! Shoot Movies! as part of the Official Cultural Programme of the World Cup in Germany in 2006. He also received a FOPROCINE grant for documentary project development (2008) and won the CUEC/IMCINE Production Program for First Documentary Film (2009) for his feature documentary El Paciente Interno (The Convict Patient), which was finished in 2012 and obtained a Special Mention of the Documentary Jury and the Guerrero Price from the press at the 27 FICG as well as the Docs360 price for at DocsDF.
Algorithms
Year of release: 2012
Duration: 96 min
Director: Ian McDonald
Original Language: English, Hindi, Tamil, Odiya
Country of production: India
Shooting location: India, Sweden, Serbia, Greece
Distributor:

Geetha J
GRA 601, 2/1783, Goureesapattom, Thiruvananthapuram, 695004, Kerala, India.
+91 4712553449
geetha@akampuram.net
http://akampuram.net



Description
In India, a group of boys dream of becoming Chess Masters, driven by a man with a vision. But this is no ordinary chess and these are no ordinary players. Algorithms is a documentary on the thriving but little known world of Blind Chess in India.
Filmed over three years from just before the World Junior Blind Chess Championship in Sweden in 2009 to just after the next championship in Greece in 2011, it follows three talented boys from different parts of India and a totally blind player turned pioneer who not only aims to situate India on a global stage but also wants all blind children to play chess.
Director info
Ian McDonald is a sociologist and documentary filmmaker. Having always used the camera to support his research on sport and physical culture in UK and India, Ian's move to documentary filmmaking benefits from a seemingly effortless 'way of seeing' that has resulted in documentaries with a difference on art and sport, especially of the 'sporting outsider' - the one who is seen as 'different' by a 'normal' society. His documentaries have been screened at film festivals, conferences and campaign meetings around the world.
Algorithms, the first ever feature documentary on Blind Chess, is Ian's first feature length documentary.
Tokyo Waka
Year of release: 2012
Duration: 63 min
Director: John Haptas, Kristine Samuelson
Original Language: Japanese
Country of production: Japan, USA
Shooting location: Japan
Distributor:

John Haptas and Kristine Samuelson
1316 Josephine St, Berkeley, CA 94703 USA
510-225-9747
haptas@gmail.com
www.StyloFilms.com/TokyoWaka



Description
TOKYO WAKA is as much a carefully etched, lyrical portrait of Tokyo and its denizens as it is a full-fledged rendering of the surprisingly rich life of crows.
A tofu seller, a homeless woman, and a Buddhist priest contemplate mortality, the metabolism of their city, and garbage, while around them crows build nests of stolen hangers, cache food in the parks, and strafe hapless passersby. The film is an evocative encapsulation of a post-bubble Tokyo where people caught in the flux of change seek their own precarious perches in an uncertain future.
Director info
Kristine was nominated for an Academy Award for ARTHUR AND LILLIE and has received an Artist's Fellowships from the National Endowment for the Arts and the California Arts Council. She teaches in the Department of Art and Art History at Stanford University in the M.F.A. Program in Documentary Film and Video.
John is a documentary film editor whose credits include Frontline World (Emmy Nomination), PBS Nova ("Pierre-Gilles de Gennes" Science Film Prize), and INSIDE GUANTANAMO BAY, a two-hour National Geographic Explorer special (editor/co-writer; Emmy nominations for Best Documentary and for Writing). He is currently editing a film about SUSAN SONTAG.
A World Not Ours
Year of release: 2012
Duration: 93 min
Director: Mahdi Fleifel
Original Language: Arabic / English
Country of production: Lebanon / UK / UAE / Denmark / Palestine
Shooting location: Lebanon
Distributor:

MPM Film
17 rue Julien Lacroix, 75020 Paris, France
+ 331 58 53 57 12
pmenahem@mpmfilm.com
www.mpmfilm.com



Description
For most of us, our identity is taken for granted — who we are, where we come from and what we are is rarely questioned. Not so for the Palestinians, who are constantly required to show proof of their identity as native inhabitants of a land which is perpetually challenged. A World Not Ours by Danish film director Mahdi Fleifel is an portrait of three generations of exile in the refugee camp of Ain el-Helweh, in southern Lebanon, where more than 70 000 people have lived for over 60 years within one square kilometre. In the 1980s, Mahdi spent his formative years on the camp, until his family settled in Denmark. His friend Abu Ilyad stayed behind. They share an obsession with World Cup soccer, Palestinian politics and melancholic music, but while Mahdi has the ability to come and go, Abu Iyad does not. An uplifting and truly funny film about hope in a hopeless world.
Director info
Mahdi Fleifel is a Palestinian filmmaker and visual artist based in London. He was born in Dubai, raised in the Ain El-Helweh refugee camp in Lebanon and later in the suburbs of Elsinore, Denmark. He graduated from the British National Film and Television School in 2009. His short films have screened at more than a hundred festivals around the world and have won many best film awards. 'A World Not Ours' is his first feature film.