Shepherdess of Clouds
March 31, 2010
Shepherdess of Clouds, shown in our festival as a world premiere, is a film that merits the title of visual art. The film's strong composition and perfect combination of time and space show the story, rather than telling it with words. The emphasis is clearly visual and although the film is verbally almost silent, this visuality can be considered a language of its own.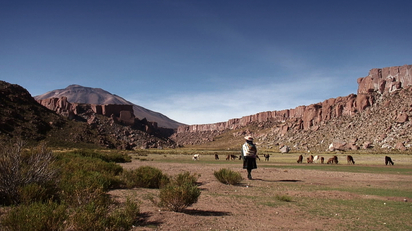 The film took us to a plateau in the Argentinian Andes. Thin air, a sky full of contrasts, piercing wind and burning sun, red-brown soil with sheep and lamas wandering on it.
Silence, silence, prayer and an echo in the infinite space, then silence. Sometimes, the whistling wind blows so hard that you cannot hear even that much. Some might say that this is a filmmaking defect – wind blowing into the microphone – but in my opinion hearing this wind added a feeling of presence, which is a desirable quality in itself.
The author of the film, Ruben Guzman, followed the paths of a lovely shepherdess Benita, who tended her sheep and lamas in the mountains. As is the custom in the Andes, she offered coca leaves during her prayers, to Mother Nature and to the mountain spirits. And as it is characteristic to the region Roman Catholicism had a relatively strong presence in her rituals – the ancient cosmology of the Andes and the Christianity that came with missionaries have mixed and taken strange hybrid forms.
Having a photographer's background, the author's main emphasis was on the visual aesthetic, and this is also what made the film seem so different from other films shown on the same day. From my own experience on the windy hills of the Andes I remember time moving slowly, making the details of the scenery, the wideness of the mountains, the depth of the sky, the lightness of the clouds all the more intense.
The author of the film also emphasised the passage of physical time, as I have previously seen and enjoyed for example in the films of A. Tarkovski. With great sensitivity, Guzman painted smoke flying in the wind, clouds moving in the bright sky, lightning playing on a distant volcano. It seemed that we could approach the cosmology of the shepherdess more easily in this way than in any way that words could have given us.
Terje Toomistu